Construction: Sustainable Steel & Cement
 9 minute read
 Updated on: 29 Aug 2021
The industrial revolution greatly changed how humans make stuff. While it has allowed for huge strides in societal development, however, industry as a whole was responsible for 29.4% of all greenhouse gases emitted in 2016
.
Most of those emissions come from burning fossil fuels to power the machines and factories involved in making everything from cars to matches
. The remaining emissions come as by-products from chemical processes such as making cement or ammonia
.
This course will take you through many of the new and imaginative ways in which we are trying to make industry less polluting and more sustainable.
Let's start with steel!
Global demand for steel is so high, that the iron and steel industry alone contribute approximately 6.7% of global CO₂ emission
!
What is steel?
Steel is an alloy. This means it's a combination of metals (mainly iron). Mixing this with certain other elements can create many different types of steel
.
How much does this industry contribute to climate change?
Steel has the potential to be a very sustainable material because it lasts a long time, has high strength, and is easy to recycle
.
However, steel production is quite an energy-intensive process.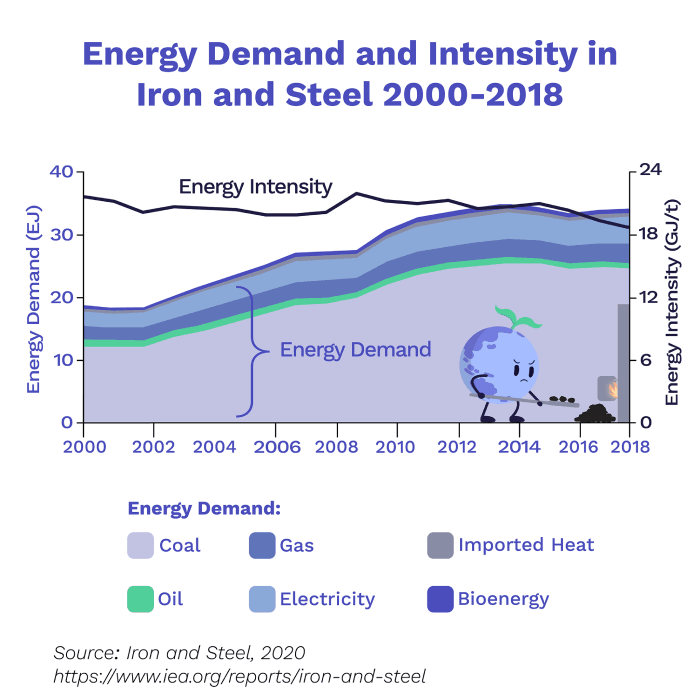 For every tonne of steel produced, around 1.7 to 1.9 tonnes of CO₂ are emitted
. To give you an idea of how big the industry is, in 2019 about 1868.8 million tonnes of steel were produced
!
How do we produce steel?
The making of steel takes three main stages
:
Preparing raw materials (coking) - Coal is heated to create coke (a carbon-rich fuel that produces lots of emissions) .
Ironmaking - Coke is then heated in a furnace along with limestone and iron ore. The iron ore is reduced into molten iron (meaning some oxygen atoms in the iron ore are replaced by hydrogen atoms) .
Although efficient new methods for this process have been developed, they are still based on those same three stages
.
What can be done to reduce emissions?
To keep global warming below 1.8°C, the CO₂ intensity of steel would need to fall by an average of 2.5% annually from now on until 2030
. Sadly, the current trend does not follow this reduction path, therefore, it is very important to start changing the ways we make steel to cut down CO₂ emissions.
Remember, emissions in steel production are an effect of using coke and the high amount of energy needed in the process. So how do we reduce these emissions?
Recycling: Steel is 100% recyclable, so using recycled steel to reduce emissions is one way companies are trying to reduce emissions. This process uses 56% less energy than producing new steel . In order to keep in line with the Paris Agreement, scrap needs to be used in 40% of all crude steel production by 2030 !
Even though this technology is new and it faces many financial challenges, there is a lot of research and development going on around the world and a lot of opportunities for decarbonizing the steel industry. Now let's learn about another major construction material: concrete!
What is concrete and why do we need it?
Concrete is a strong, long-lasting, and versatile building material
.