Sustainable Steel: What's Climate Change Got to Do with Steel?
 11 minute read
 Updated on: 29 Apr 2021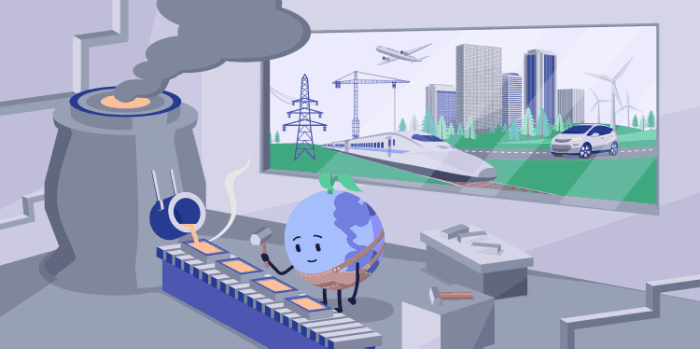 The industrial revolution hugely changed the way in which we produce consumer goods. By taking advantage of newly-discovered electricity and economies of scale we have been able to build the giant industrial sector we know today. However, while this has enabled great strides in human development, industry as a whole was responsible for 29.4% of all greenhouse gases emitted in 2016
.
Most of those emissions come from burning fossil fuels to power the machines and factories used to make everything from cars to matches
. The remaining emissions come as by-products from chemical processes, such as making cement and agricultural fertilisers
.
This course will take you through many of the new and imaginative ways in which we are trying to make industry less polluting and more sustainable. Let's start with steel!
In 2019, 240kg of steel were produced for every person on Earth
! Indeed, global demand for steel is so high that the iron and steel industry alone contributes approximately 6.7% of global CO₂ emissions
!
What is steel?
Steel is an alloy. This means it's a combination of metals, specifically iron with some carbon added for strength. Mixing this with certain other elements can create many different types of steel
.
Below we can see an example of the composition of a specific kind of steel:
How much does this industry contribute to climate change?
Steel has the potential to be a very sustainable material because it lasts a long time, is very strong, and is easy to recycle
.
However, because of the dependency on coke (made by heating coal to high temperatures) as a key raw material and fossil fuels for operations, steel production is quite an energy intensive process.
For every tonne of steel produced, around 1.7 to 1.9 tonnes of CO₂ are emitted
. This is a big problem for climate change when you consider the size of the steel industry; to give you an idea, in 2019 about 1868.8 million tonnes of steel were produced
!
Unfortunately, the story doesn't end at CO₂ emissions. Steel production also produces harmful and polluting compounds such as carbon monoxide (CO), nitrous oxide (N₂O) and sulfur dioxide (SO₂) which contribute to acid rain, affecting soil and vegetation
. Also, the heating of coke in the blast furnace emits a substance called naphthalene
, which is thought to cause cancer
.
How is steel made?
Steel production involves three main stages
:
Preparing raw materials (coking)
Ironmaking
Steelmaking
Preparing raw materials - Coal is heated in an oxygen-free environment to create coke, a carbon-rich fuel which is responsible for a large portion of emissions from steel production
.
Ironmaking - Coke is heated in a blast furnace along with limestone and iron ore. The limestone removes impurities and is turned to 'slag' while the iron ore is reduced into molten iron
. Reduction in this case involves removing oxygen and adding hydrogen to the ore.
Steelmaking - Finally, impurities are removed from the molten iron to create steel
.
Newer methods are more efficient but still based on those same three stages
. Using these stages there are two main ways to produce steel:
Electric Arc Furnaces (EAF's) - these produce 25% of all steel. Here, recycled steel is used as the starting material . Compared to blast furnaces, these furnaces are smaller and don't need coke as a reducing agent (as they use electricity to melt the iron ore), so they produce much less CO₂ . They're also cheaper to run than blast furnaces !