Climate Politics: What the World Could Do
 12 minute read
 Updated on: 03 Jul 2021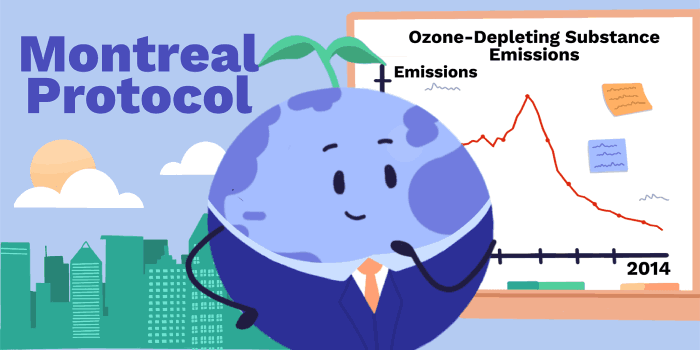 You've probably read in our other courses about how science can offer solutions to climate change, but have you ever thought about the role of global politics in solving the climate crisis? This course will look at the tools that politics offers us and how we can use them to help us in the fight against climate change.
Let's start with a great success story for global climate politics - the Montreal Protocol - to see how global climate politics has the potential to make a difference.
What is the Montreal Protocol?
Back in 1989, a global agreement called the Montreal Protocol came into force
. This agreement was made to reduce the use of ozone-depleting substances in things like aerosols and refrigerants
.
The ozone layer is a layer of gases in the upper atmosphere that protects the Earth from harmful ultraviolet (UV) radiation
. However, in the 1970s, scientists discovered that human activities were damaging this important "shield"
.
They found that the chemicals used in aerosols and refrigerants were also destroying the ozone layer because, as they rose into the stratosphere, they were hit by UV radiation from the sun, causing them to release reactive chlorine particles that react with, and effectively destroy, the ozone
. The Montreal Protocol was therefore introduced to protect the ozone layer by phasing out the production and consumption of these so-called ozone-depleting substances
.