Tropical Climate
 9 minute read
 Updated on: 29 Apr 2021
In the previous chapter, we learned about the water cycle and general circulation, the 3D movement of air in the atmosphere. Let's look at how general circulation can affect rain and storms in the tropics - and what climate change might mean for both.
How does wind move around the tropics?
Wind is important to the water cycle because it redistributes vapour around the planet
, affecting where and how it rains. Evaporation from the ocean forms clouds that can be moved by wind to rain over land
:
As we learnt in the Water Cycle chapter, the tropics receive more heat energy from the sun, so air in this region is warmer than in the rest of the atmosphere
. This makes it less dense than colder air
.
The density of a gas refers to how many molecules of it are present in a given volume. Adding energy to a gas causes it to expand and become less dense: because its molecules have more energy to move around, they become more spread out
. Differences in density between air masses create wind currents in several ways: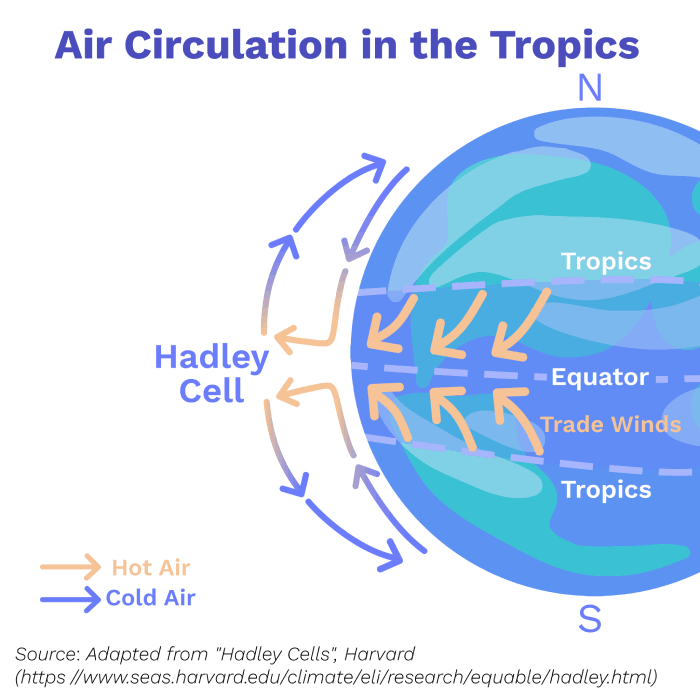 Hot air rises as colder, denser air from the surroundings pushes it upwards and out of the way. This property is called buoyancy
.
Hot air at the equator creates a current of rising wind. As the air rises, it experiences lower pressure, because there is less air pushing down on top of it
. The temperature, pressure, and volume of a gas all affect each other
: like higher temperatures, lower pressure allows the air to expand and increase its volume.
Expanding air pushes away the air surrounding it
. This requires energy, which comes from the heat of the gas
. As a result, expansion causes the rising air to cool
. As it cools, the water vapour inside it becomes liquid, forming clouds
.
Rising wind also loses its buoyancy because, as it rises, the density of the surrounding air decreases
. Eventually, it is unable to rise any further. At this point, the wind is pushed sideways and splits into two separate currents, which travel towards opposite poles
.
As these currents travel towards the poles, they sink back towards the surface of the planet. As they sink, they experience increasing pressure, which causes them to warm again
. Having left their water behind as clouds, this warm, dry air creates deserts like the Sahara and the Kalahari
.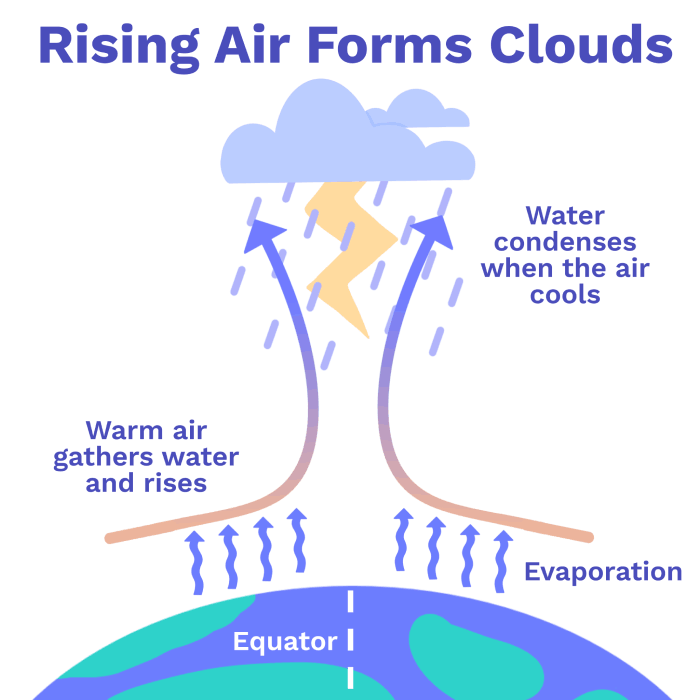 At the surface of the planet, denser air travels back towards the equator
. This completes the circulation of air around the tropics, known as the Hadley Cell
.